This edition of Reconciliation News arrives with a new look and feel which reflects this brand essence.
In this edition, you'll read about:
The 2016 National Reconciliation Week theme – 'Our History, Our Story, Our Future' – speaks to Australia's continued journey towards reconciliation. It considers more closely 'Our History' – and what these reflections mean for 'Our Story', and 'Our Future'
The State of Reconciliation in Australia report
Jackie Huggins, who discusses 25 years of Reconciliation
Reconciliation Australias' Narragunnawali platform, which shares the role of teachers and educators in historical acceptance
Archie Roach, who reflects on the 8th anniversary of the National Apology.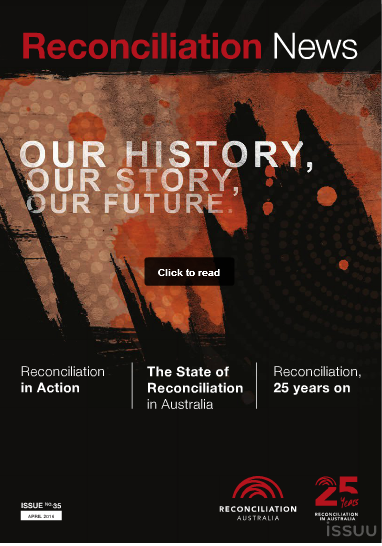 Reconciliation News, April 2016