Thirty years on from the historic Mabo decision, Meriam woman Nancia Guivarra reflects on her personal connection to Mer Island.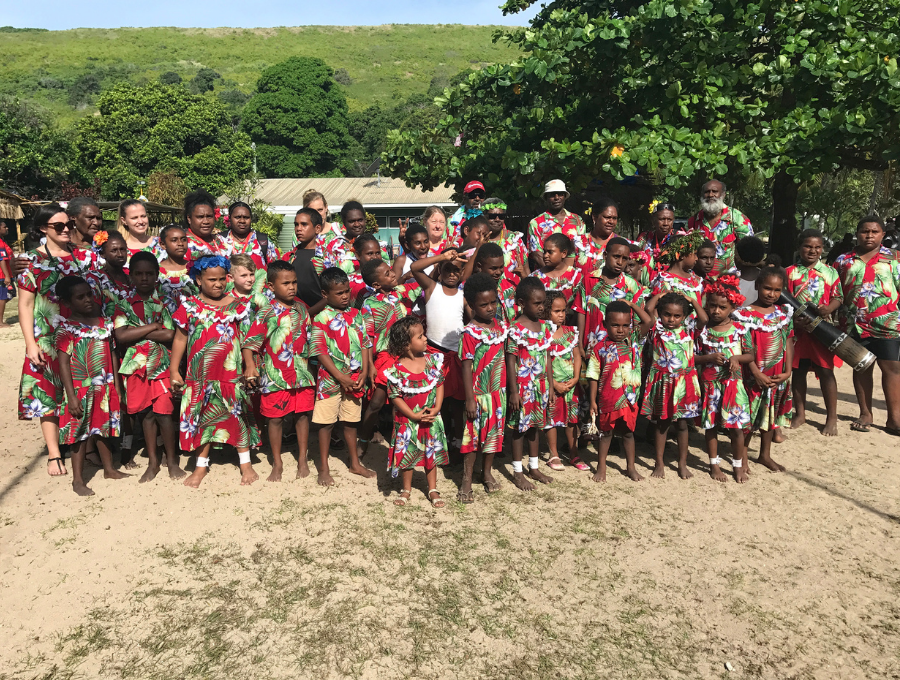 Mer Primary Children's Choir: Nancia Guivarra.
I have four First Nations lineages; from Murray Island, Meriam (Magaram clan), from my paternal grandfather, Wuthathi and Malay from my paternal grandmother. On my mother's side, both Bindal Juri and Gangalu from my maternal grandmother and Wakka Wakka from my maternal grandfather.
However, my upbringing was dominated by my father's Meriam family and culture. My Meriam roots descend from my great great-great grandmother a woman named Su (Tabo) of the Magaram clan.
Su Tabo had two children, Annie Pitt and Robert Pitt to Douglas Pitt Snr, a Jamaican man who is famous for bringing the Coming of the Light to Darnley Island in 1871. Annie Pitt was born on Mer and her father Douglas married her off to Pedro Guivarra, a Spanish Filipino boat captain. They were the grandparents of my grandfather Walter Guivarra Snr.
The Murray Islands are a group of small islands of which Mer (Murray Island) is the only one populated, with around 450 people. I have visited Mer three times.
The first time was before the Mabo case after I graduated from university. At 22 years old I secured an entry-level job working for the Aboriginal Development Commission (ADC) that took me to remote areas around the state. Before my first trip to Mer, I asked my eldest Aunty Janice Cowburn (nee Guivarra) whom I should connect with, and she said to ask for Grandfather James Rice who is also a descendant of Su Tabo and therefore my family.
It was 1989 and I didn't know anything about the Mer Islanders claim for Native Title but it's clear that it was all that was on the mind of James Rice, who was in the middle of the case when I met him at his humble home. He told me I was of the Magaram clan and that our lands were on the southeastern corner of Mer.
He told me all about our boundaries in a long yarn. Unfortunately I didn't take notes, but I do remember clearly he repeated often, it was "Malo's law", that "Tag Mauki Mauki Teter Mauki Mauki". It was an important statement meaning, don't walk on another man's land nor should they walk on yours. It was the law relating to trespass and land rights. I didn't realise the significance of that phrase until later, as he was often quoted in the Mabo case.
The above is an excerpt from Reconciliation News – May 2022.
Read the full article online in the latest edition of Reconciliation News. 
This edition of Reconciliation News is all about the importance of Aboriginal and Torres Strait Islander peoples' cultural empowerment, protection and rights. Download the full PDF or read the full edition online.