Nakari Thorpe shines a light on the long journey of the Koori Knockout and its enduring role bringing community together as a new exhibition looks at the history of the 'modern day corroboree'.
Uncle Victor Wright has never missed a Koori Knockout. For 49 years, he has turned up to either play, coach or watch his family represent their community. This year — the event's 50th anniversary — it will be no different. "It's a milestone, I'll be racing back to Sydney and driving down to Nowra … I'm not gonna miss it," he said. Mr Wright, a Dunghutti and Anaiwan man from Kempsey, is one of the founding members of the event. Over the past five decades, he's seen it grow from its humble beginnings to one of the biggest Indigenous sporting events in the country.
More than 30,000 players and spectators descended on the NSW south coast on the October long weekend for the anniversary. After a two-year hiatus due to COVID-19, the South Coast Black Cockatoos will finally be able to host the event after winning in 2019. There are more than 60 men's teams alone, along with women's and junior competitions — all vying for the coveted trophy and pride of their community. "It's been a long, hard journey … [but] when you see where it is today and it's still as strong," Mr Wright said.
The now 74-year-old remembers sitting at the back of the Clifton Hotel in Redfern when the idea of an all-Aboriginal football carnival came up in conversation. It was the early 1970s and he was there with Bob Smith, Bob Morgan, Bill Kennedy, Danny Rose and the late George Jackson.
They were all young Aboriginal men from country New South Wales working and playing footy in Sydney, and all associated with the Koorie United team, who would become the founding members of the Knockout.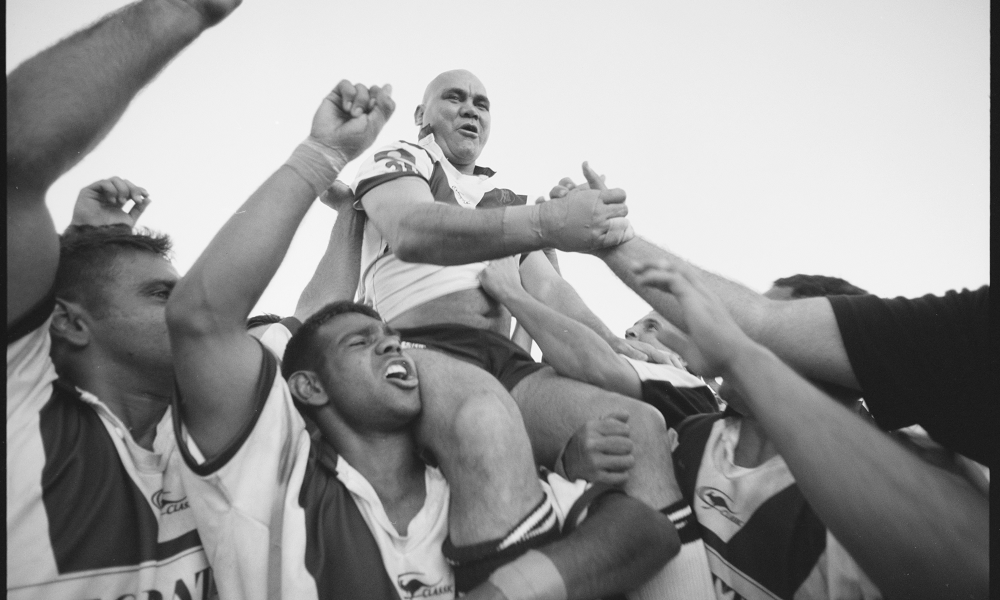 Grand final winners of the 2004 Koori Knockout, the Cec Patten–Ron Merritt Memorial Redfern All Blacks, lift captain Graeme Merritt in the air after the game, Redfern Oval, Sydney, Gadigal Country. Photo: Jamie James, courtesy of the State Library of NSW.
"We just sat down and had a few little yarns … we wanted something for ourselves, something that was grassroots," he said. There had been many town-based carnivals in previous years, but they wanted a state-wide event. The first ever Knockout was played at the Camdenville Oval in St Peters in 1971. There were about a dozen teams, mostly from Walgett, Kempsey, Moree and a few from Sydney. "They felt there wasn't enough representation of Aboriginal players in the big league, so they decided they'd form their own competition, and it was called the Koori Knockout," Gamilaroi man Ronald Briggs said
Mr Briggs, a curator and librarian at the State Library of NSW, has worked for the past two years with the community, families and the founding members to capture the history, pride and excitement of the event in a new exhibition. Photos, videos, and other memorabilia tell the story of its historical origins to its "modern contemporary representation" today. "I've been to most Knockouts since about 1986, so it's been a real thrill bringing it all together," Mr Briggs said.
"When the Knockout was in my hometown of Moree, I remember it being just a huge family event, mob from all over the state converged on Moree and it was just such an exciting, thrilling event for me as a young kid.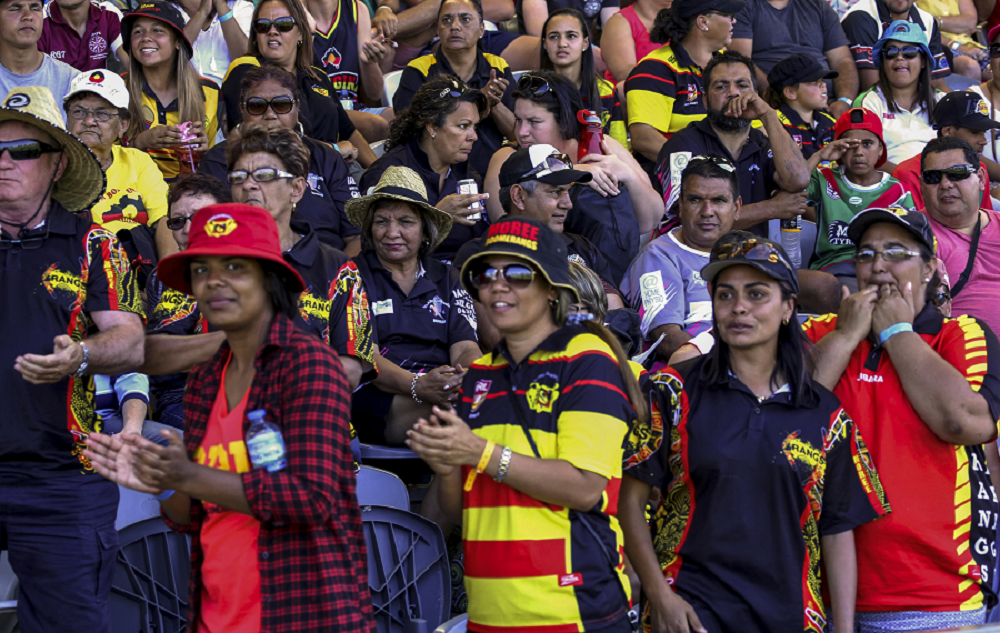 Koori Knockout supporters from Moree, Dubbo, Wiradjuri Country, 2015. Photo by: Barbara McGrady, Gomeroi/Gamilaraay Murri, courtesy of the State Library of NSW.
The above is an excerpt from Reconciliation News – October 2022.
Read the full article online in the latest edition of Reconciliation News.
The Koori Knockout: 50 Years is a free exhibition at the State Library of NSW on show until 27 August 2023.
Nakari Thorpe is a Gunnai, Gunditjmara and Gooreng Gooreng woman from Victoria and Queensland. She is a presenter and the Indigenous Communities Reporter with ABC News in Sydney providing coverage across television, radio and digital. She previously worked as a multi-platform reporter with SBS and NITV covering federal politics in the Canberra Press Gallery and national Indigenous affairs.
This article was originally published on ABC News.
This edition of Reconciliation News is all about the importance of Aboriginal and Torres Strait Islander community control in action. Download the full PDF or read the full edition online.