When Warren Mundine, a leading "no" campaigner of the Voice to Parliament, suggested that migrants be recognised in the Constitution along with Indigenous Australians, it was criticised as a diversionary and potentially destabilising intervention.
It did, however, focus momentary attention on whether Australia's culturally diverse communities would support the Voice referendum.
These communities could be crucial to the success of a referendum, given their size and breadth. Just over half of Australians were either born overseas or have at least one migrant parent. And nearly a quarter of Australians speak a language other than English at home.
The Voice campaign must capture the support of a majority of electors in a majority of states. The yes vote effectively requires an absolute majority to succeed, while the no vote can depend on unconvinced or confused voters to boost its impact. Although the informal vote was less than 1% in the 1999 republic referendum, it can be high in multicultural communities.
For example, the electorate of Fowler in western Sydney, which has large Vietnamese and Chinese populations, had an informal vote of 10.5% in last year's federal election. Recognising how important the multicultural vote is, the "Yes" campaign has already identified several broad coalitions whose support is critical. First is the Federation of Ethnic Communities Councils of Australia (FECCA), which announced its full support of the Voice at its annual conference in late 2022.
Its chair, former Victorian state MP Carlo Carli, has been using the media to push back at Mundine's comments, saying there is no interest in ethnic community organisations for a multicultural voice to parliament. FECCA is a federation of state and regional councils, each of which comprises many individual ethnic organisations.
As such, it neither controls nor completely reflects the opinions of the broad masses of unaffiliated ethnic voters. However, in the case of the Voice, these bodies may well influence how voters think – this will be tested in coming months. While FECCA is an important body, individual ethnic community organisations have much closer relationships with the electors who will vote in the referendum. And within these smaller groups, trust in government is sometimes lacking and support for progressive causes less assured. Many of the important conversations about the Voice will also need to be in people's native languages.
The various Chinese communities offer a good example here. They are increasingly dominated by university educated mainland China or Hong Kong migrants. And they've been badly hurt by the upsurge in anti-Chinese rhetoric and harassment over the past few years of the pandemic. This very diverse community does not have a necessary attachment to the Voice.
On the one hand, many Chinese migrants may have a shared experience of racism that helps shape their attitudes. But on the other hand, some may retain a suspicion and anxiety about Indigenous people, as well. Another coalition is religious based. The heads of various religious congregations gathered last year to decide whether a consensus on the Voice would be possible.
They soon reached agreement on supporting the referendum, finding in all faiths a moral, if not religious, imperative to endorse Indigenous aspirations for recognition.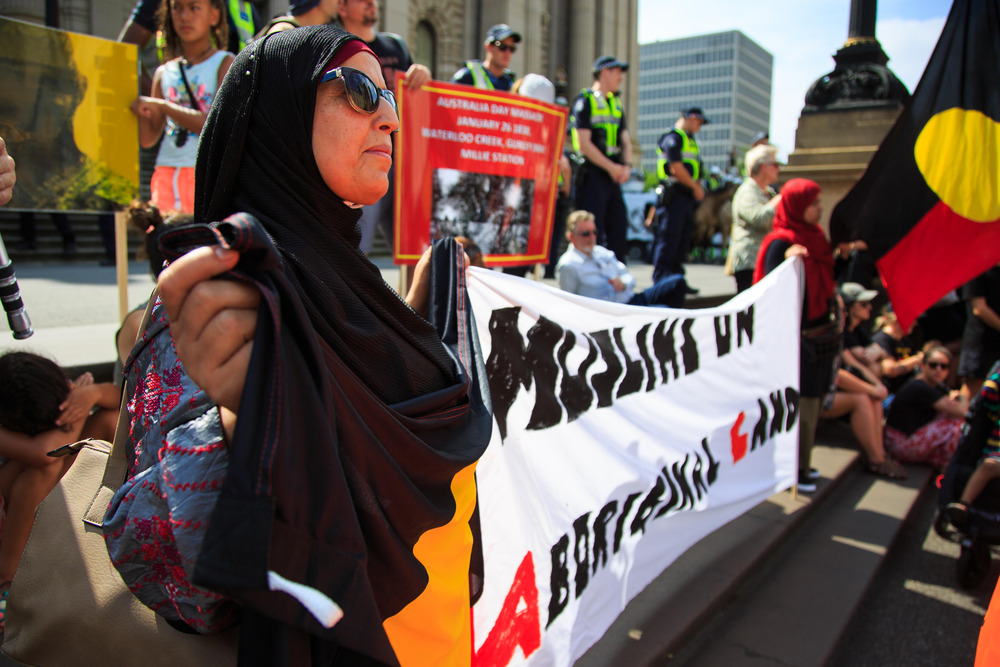 Australia's multicultural communities have a unique role to play in standing with Aboriginal and Torres Strait Islander peoples. Here a woman attending an Invasion Day rally in Melbourne on Wurundjeri Country holds a banner reading 'Muslims on Aboriginal Land'. Photo: David Hewison/Alamy
Mundine argued that migrants rejected the idea Australia was deeply racist – a notion the "no" campaign will try to seize on. However, my research into the political mobilisation of ethnic communities over many years has shown that immigrant communities have a more complex relationship with the politics of race.
Some communities, for example, have questioned the ideology of integration that was reintroduced by conservative governments in recent years in response to earlier multicultural movements of the 1970s to 1990s. COVID also disproportionately affected migrant communities. In early 2022, it was revealed that deaths from COVID were three times higher among migrants than those born in Australia. For those born in the Middle East, death rates were 13 times higher. Immigrant communities also suffered from a high incidence of racism and serious economic stress.
This caused trust in government to erode among the most affected groups – largely working class, non-Englishspeaking people, often born overseas. And in 2020, the Black Lives Matter movement ignited similar action in Australia. Although driven by Aboriginal activism, BLM rallies also attracted many Australians with backgrounds from Africa, the Middle East, the Americas and the Pacific, in particular.