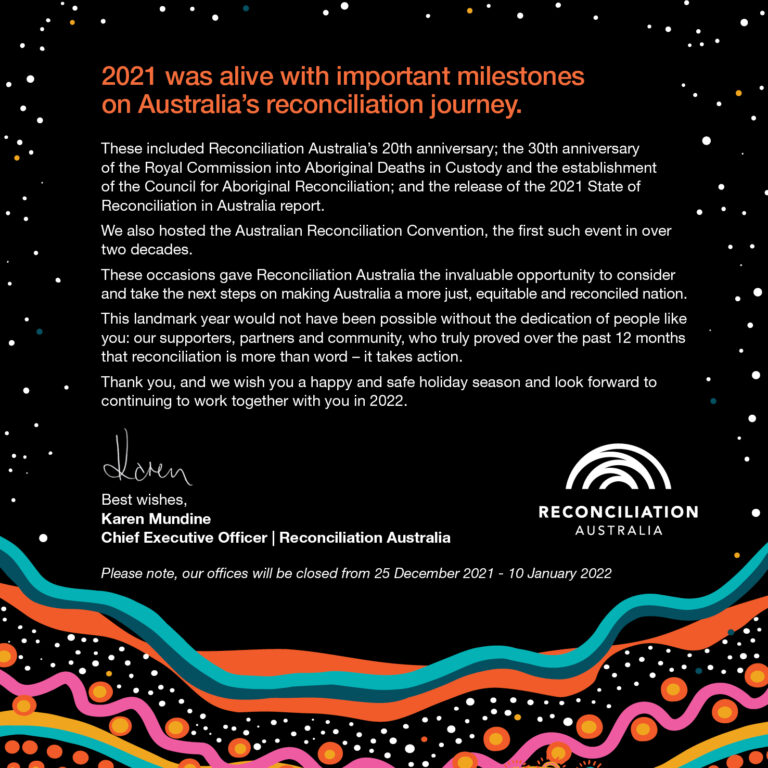 2021 was alive with important milestones on Australia's reconciliation journey.
These included Reconciliation Australia's 20th anniversary; the 30th anniversary of the Royal Commission into Aboriginal Deaths in Custody and the establishment of the Council for Aboriginal Reconciliation; and the release of the 2021 State of Reconciliation in Australia report.
We also hosted the Australian Reconciliation Convention, the first such event in over two decades.
These occasions gave Reconciliation Australia the invaluable opportunity to consider and take the next steps on making Australia a more just, equitable and reconciled nation.
This landmark year would not have been possible without the dedication of people like you: our supporters, partners and community, who truly proved over the past 12 months that reconciliation is more than word – it takes action.
Thank you, and we wish you a happy and safe holiday season and look forward to continuing to work together with you in 2022.
Best wishes,
Karen Mundine | Chief Executive Officer – Reconciliation Australia
Please note, our offices will be closed from 25 December 2021 – 10 January 2022