The 2015 RAP Impact Report shows RAPs are a powerful tool for advancing social change by transforming the attitudes and behaviors of the three million people working or studying in
organisations with a RAP.
Some information included in the report includes:
77% of RAP employees have high trust  for their Aboriginal and Torres Strait  Islander colleagues, compared with 26 per cent  of people in the general community.
5% of RAP employees believe that  prejudice is high in their organisation,  compared with 45 per cent who believe it is  high in the general community.
44%of RAP employees enjoy frequent  interaction with Aboriginal and  Torres Strait Islander peoples, compared with  30 per cent of the general community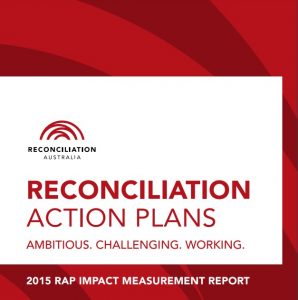 2015 RAP Impact Report
File size: 293 KB