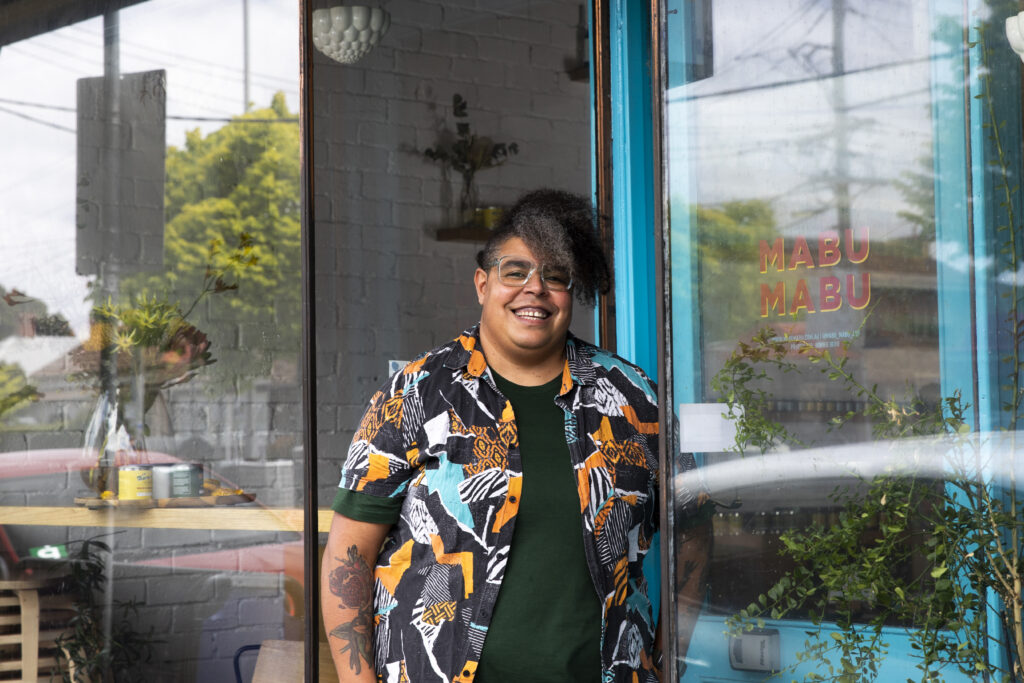 Nornie Bero is the head chef and business owner of Mabu Mabu. Originally from Mer Island in the Torres Strait, Nornie has been a professional chef for over 20 years, and is on a mission to put First Nations ingredients in kitchens across Australia. We sat down with her to chat about cooking, damper, and whether or not you should put your knives in the dishwasher.
When did you first start cooking and what does it mean to you?
I started cooking from a young age. I'm born and bred on the Islands, so as soon as you can reach over the stove top, it's a part of life to be cooking and it's everybody doing their bit. We cook as a family, hunt as a family, we plant, we fish.
As a child you don't go home for lunch, you just have a snack down the beach, eating what the island offers you. For me, culture is everything. My dad was a very cultural man and he made sure I knew who I was, speaking English as a second language and Meriam first, knowing those cultural ways of life.
What is Mabu Mabu and how did it come about?
I've been a chef for over 20 years, mostly here in Melbourne and Europe, but I'm still always an Island girl. Mabu Mabu is an extension of who I am. I started off as a condiment business, now I have a big catering arm to my business and I have a café and now a restaurant and bar.
I wanted to put Island people – my awesome culture – on the map and [show people] how amazing our cuisine is. I've always had this dream that we have our own street. Why don't we have our own hub? I want it to be normal that you come to Lygon Street that's all Italian and maybe one day we'll have our own Lygon Street.
I'm ambitious, I'm a dreamer, I get that from my dad. My father was a dreamer but he was sick so young and he never got to achieve the things he wanted to in life. I think I do so much because I am achieving it for both of us.
Why is it important for us to be using, eating and celebrating native ingredients and First Nations ways of cooking?
Australia has so much to offer and we need to start showcasing it, we need to start taking care of our land because we overplant things that don't belong here. We're so consumed by having everything we want, whenever we want, that we forget about seasonal produce.
My whole purpose is to get native ingredients in every kitchen because if we're planting what our state needs then that's great for the environment, great for the land, great for us in general.
A simple thing like warrigal greens; it's not hard to grow, why are we not using it as our natural spinach? It's an easy thing, it should be on the shelves at the supermarket. I want it for everyone.
The above is an excerpt from Reconciliation News – October 2021.
Read the full article and find Nornie's damper recipe online in the latest edition of Reconciliation News.
This edition of Reconciliation News is all about the importance of Aboriginal and Torres Strait Islander peoples' cultural empowerment, protection and rights. Download the full PDF or read the full edition online.
Pre-order Nornie's cookbook and check out the Mabu Mabu online shop!
Start cooking with native ingredients with the Mabu Mabu Damper recipe.