'I went camping, Uncle Pat!' Children at Tumut Community Preschool are thriving with the inclusion of Uncle Pat Connolly's wisdom in their learning.
As Uncle Pat pulls up to the fence a flood of children run to greet him.
"Uncle Pat, Uncle Pat," they shout, all determined to tell him their news. "I scratched my leg, Uncle Pat," "I went camping, Uncle Pat," "I stayed at my Nan's last night Uncle Pat!".
Uncle Pat Connolly, Wiradjuri/Yuin/Ngunnawal man and Elder-in-Residence at the remarkable Tumut Community Preschool reaches down to pat a head or grab a hand pushed through the fence. He patiently listens to all the little-people-yarns they share with him, smiling broadly the whole time.
The Wiradjuri Elder is on one of his frequent visits to this early education centre where he teaches the youngsters about his culture and his Wiradjuri language. His relationship with the children and their teachers has been developed alongside the school's Reconciliation Action Plan (RAP). A plan which was fundamental in developing the centre's application for the Narragunnawali Reconciliation in Education Awards 2021, of which they were joint winners in the early learning category.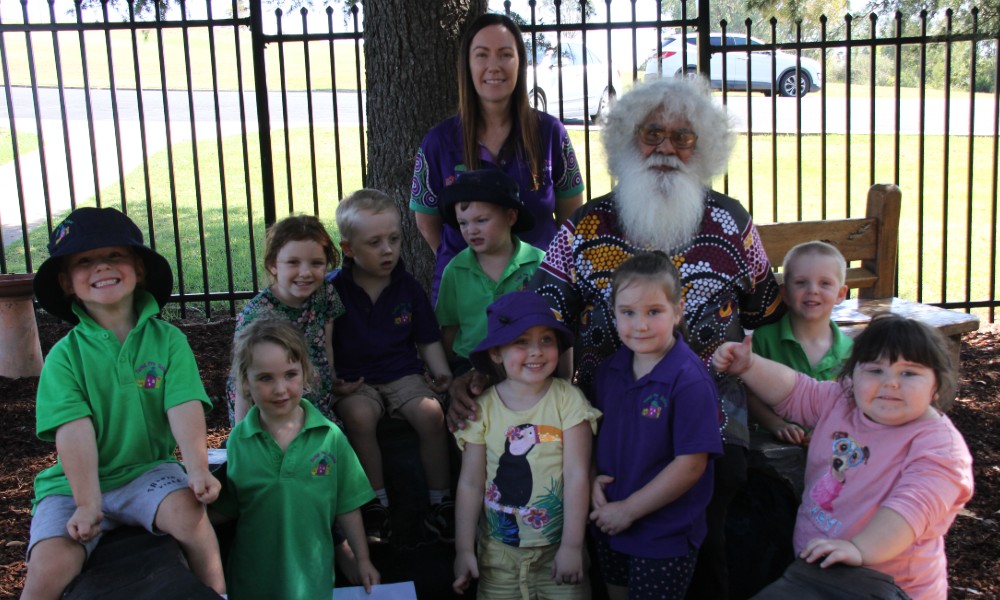 Wiradjuri/Yuin/Ngunnawal man Uncle Pat Connolly is Elder-in-Residence at the Tumut Community Preschool, where he shares his knowledge and culture with the children, and by extension, their community. Photo: Al Harris
Uncle Pat's own educational experience was vastly different from his young fans. His parents and his eleven siblings were constantly on the move to escape child welfare attempts to steal Aboriginal children as part of the overt assimilationist policies of the time.  
He left school at 14 because, as he puts it, "Some of the white people didn't want their kids going to school with the Black kids". So Aboriginal children were encouraged to leave school early and join their families picking fruit and veggies for local farmers. 
Speaking his own Wiradjuri language was a punishable offence and he remembers adults speaking the language in low tones, afraid that if they were caught by the mission authorities, serious punishment would result. "Our Uncles and Aunties knew that if they were caught speaking language; teaching the kids language, they would come and take the kids away."
"We knew a few words, everyone did, but if you were caught speaking it at school, they had this big, whippy cane…."
Today when he visits the preschool he is often welcomed in his own language by the children.
"It makes me feel tremendous. They tried us to stop the language, we couldn't even practice our own culture, it was all stopped. But now we're getting it all back."
The above is an excerpt from Reconciliation News – May 2023.
Read the full article online in the latest edition of Reconciliation News. 
Tumut Preschool were joint winners in the Early Learning category of the Narragunnawali Awards. 
This year marks the fourth Narragunnawali Awards, recognising outstanding commitment to reconciliation in education. To learn more about the Awards visit: narragunnawali.org.au/awards
This edition of Reconciliation News is all about the importance of Aboriginal and Torres Strait Islander voice. Download the PDF or read the full edition online.