As the national conversation on an Indigenous Voice to Parliament intensifies, Yawuru man, Professor Peter Yu AM explains the importance of symbols and why a referendum on Voice to Parliament is an opportunity we cannot afford to miss.
The outcome of this year's federal election gives some cause for optimism that the dark clouds of continuous disappointment in Australia's reconciliation journey may be lifting. We are now at a time where change feels inevitable.
Nowhere is this more obvious than in the welcome and positive comments from Prime Minister Anthony Albanese regarding the Uluru Statement from the Heart and constitutional recognition for First Nations Australians.
The new federal government has not only committed to implementing the Uluru Statement from the Heart in full; it has made this commitment a major theme of its forthcoming term.
In the next few weeks and months there will be considerable discussion about the pathway to constitutional recognition. The constitutionally enshrined Voice will be critically important on several levels.
One can never overestimate the power of symbols.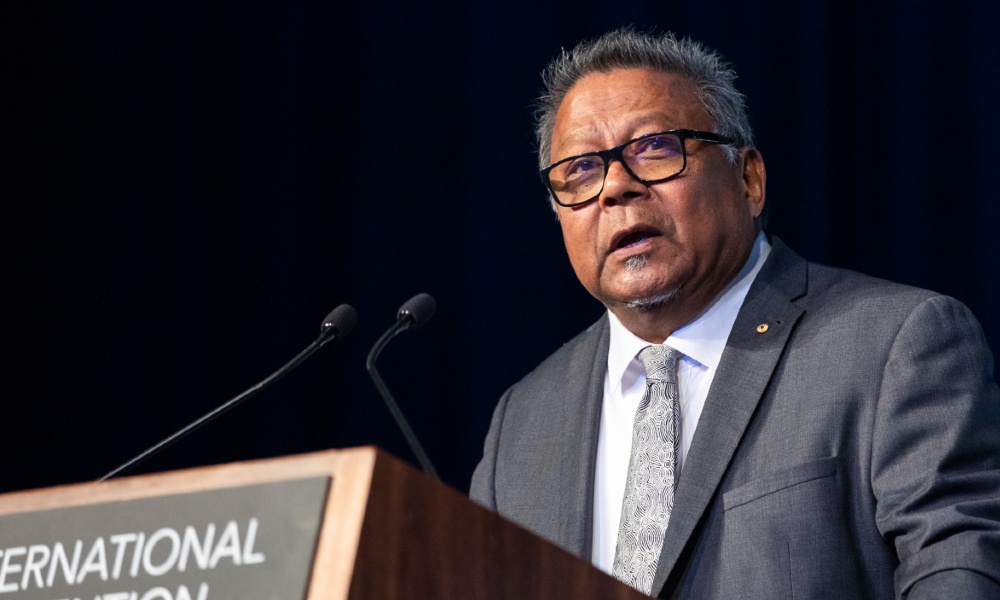 "We must own not only the opportunity but also the risk if we fail to achieve the desired outcomes." Professor Peter Yu delivers the keynote at the 2022 RAP Conference. Photo: Joseph Mayers
The recognition of First Nations Australians in the Constitution will be an uplifting of our spirits and sense of who we are as inheritors of thousands of generations of people who own the lands and waters that make up modern Australia.
The Voice will provide a level of parliamentary accountability to First Nations Australians. Rather than being a third chamber of parliament, it will be a mechanism to promote collaboration and partnership.
Most importantly the Voice can provide an institutional framework to formalise a settlement or treaty between First Nations Australians and the Australian nation state underpinned by a truth-telling process.
We are now in an environment where there is an opportunity to think and work creatively with purpose. There should be a collective will and renewed determination for both public and political change.
The above is an excerpt from Reconciliation News – October 2022.
Read the full article online in the latest edition of Reconciliation News. 
This edition of Reconciliation News is all about the importance of Aboriginal and Torres Strait Islander community control in action. Download the full PDF or read the full edition online.