Every year Reconciliation Australia brings together people from RAP organisations large and small at the National Reconciliation Action Plan – RAP – Conference, to collaborate, learn and act on reconciliation.
The 2022 National RAP Conference, Brave Together, marked first time since 2019 that the RAP network was able to gather in-person.
From 7 June to 9 June 2022, over 700 RAP organisation employees, policymakers, academics, and community members, connected and were challenged to be brave in their commitments to reconciliation.  
Welcome event
Attendees of the 2022 RAP Conference braved cool evening breezes off Darling Harbour as they gathered for the welcome event in front of the Australian Maritime Museum (AMM).
Guest were treated to an energising performance from the dancers at Brolga Dance Academy – a contemporary and traditional dance troupe based in Redfern, Gadigal Country.
"You are not just a network of organisations with RAPs," said Reconciliation Australia Co-Chair, Professor Tom Calma AO in his speech to the crowd. "You are part of a much larger movement driving change at grassroots, local, state, national and corporate levels."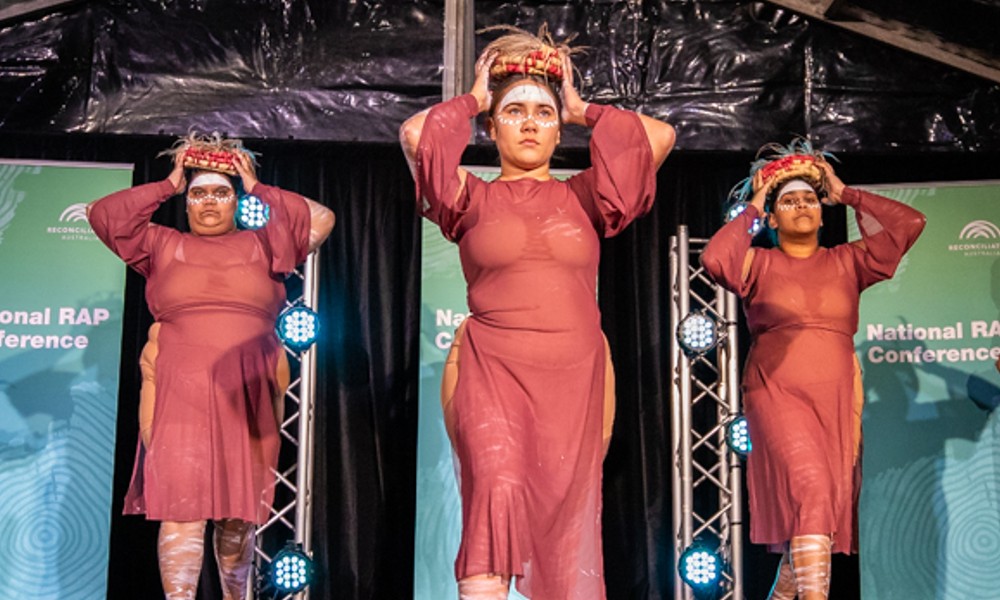 Dancers from the Brolga Dance Academy delighted attendees at the first event of the 2022 RAP Conference. Photo: Joseph Mayers
The night was rounded off with a soulful acoustic performance from Anangu and Torres Strait Islander songwriter and singer, Miiesha, accompanied on stage by Sarah Koppen on guitar.
Day one
The first day of the Conference started off characteristically motivating, with MC Jerrinja journalist Shahni Wellington getting everyone situated. 
In his rousing Keynote Address, eminent Yawuru man, Professor Peter Yu AM, spoke about Constitutional enshrinement of a Voice to Parliament.
"We need the support of all Australians now, including this audience, to make sure the implementation of the Uluru Statement makes a difference that is so desperately needed for our nation," he said.
Dixie Crawford speaking in the Reimagining Australia Panel. Photo: Joseph Mayers
The day's first plenary session Reimagining Australia – with Dixie Crawford, Joshua Gilbert, Aleem Ali, and Professor Andrew Gunstone, moderated by Reconciliation Australia CEO Karen Mundine – asked panellists to imagine what a reconciled Australia could look like and what brave action would be needed to make that dream a reality.
"Who are we reimagining for?" asked Ms Crawford. "A lot of organisations engage in the RAP process to look good, not to be good. It's not about telling what's important – it's about showing what's important."   
And lastly, Transforming our Workplaces, with Professor Deen Sanders and Siobhan Toohill, moderated by Reconciliation Australia Co-Chair Melinda Cilento, looked at all that's going well in Australian workplaces when it comes to reconciliation.
2022 Indigenous Governance Awards
The 2022 Indigenous Governance Awards gala dinner took place on the first evening of the Conference, with over 400 glammed-up guests gathering to celebrate success and excellence in Aboriginal and Torres Strait Islander-led organisations. It was a wonderful evening, with a sequined Dan Bourchier at the helm keeping everything moving. 
There was a very special performance from Uncle Archie Roach and his quartet, and a speech from new Minister for Indigenous Australians, Linda Burney MP.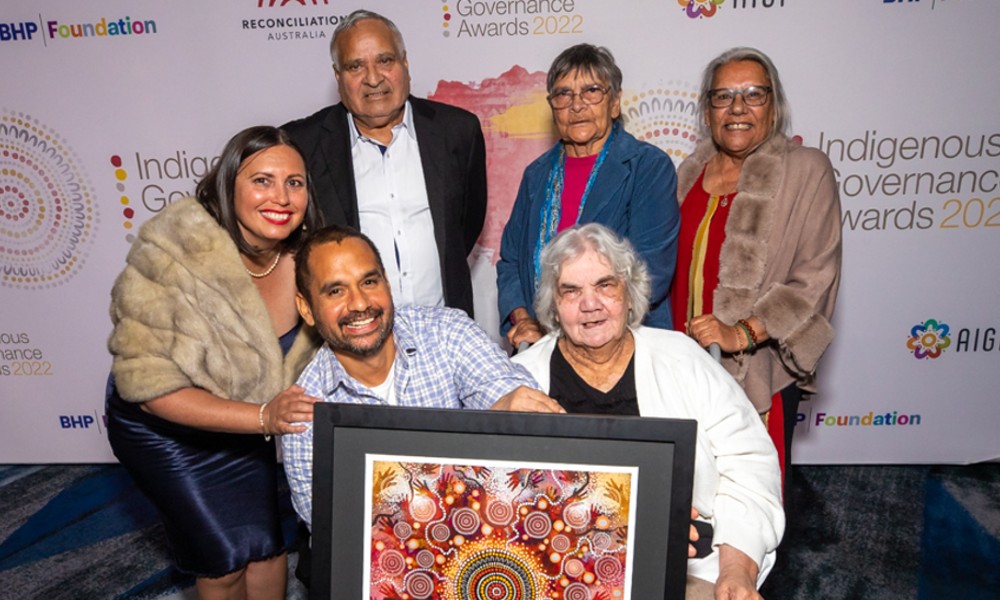 Winners of Category 1 of the 2022 Indigenous Governance Awards, the Aboriginal Health & Medical Research Council Human Research Ethics Committee. Photo: Joseph Mayers
She told the crowd: "Today we are on the cusp – there's hard work of course, but we are closer to Aboriginal and Torres Strait Islander peoples getting full recognition. It will only happen if we all work together."
Of course, the real VIPs of the evening were the winners and finalists of the Awards, who were assessed on innovation, effectiveness, self-determination, sustainability, and cultural legitimacy.
Read more about the winners and finalists, and what the judges had to say.
Day two
The second day of the National RAP Conference started with a fireside chat between CEO of Telstra, Andy Penn and Sonja Stewart, CEO of NSW Law Society. They discussed all the highs and lows of Telstra's reconciliation journey – from having its Elevate RAP revoked, to starting its new Stretch RAP.
This was then followed by a rousing speech by Senator for Western Australia and Special Envoy for Reconciliation and the Implementation of the Uluru Statement, Patrick Dodson, who said, "This country is yearning for change, not just any change, but change substantive of its relationships with its First peoples."
The last plenary of the day, Transforming Our Futures, had James Taylor, Claire Robbs, and Jason Mifsud, from three new Elevate organisations on how they enact transformational change at scale through their RAPs, including Life Without Barrier's critical decision to move First Nations children in its out of home care program to Aboriginal Community Controlled Organisations.
Brave together, into the future
It was a productive, enlightening and energising three days of collaboration across the RAP network.
Since the Reconciliation Action Plan program launched 15 years ago, the network has grown to over 2000 organisations impacting close to 4 million people in Australia every day – and this incredible sphere of influence was duly felt at the Conference. 
Our RAP partners comprise a vast community and collaborative effort to take Australia forward into a just, equitable and reconciled future.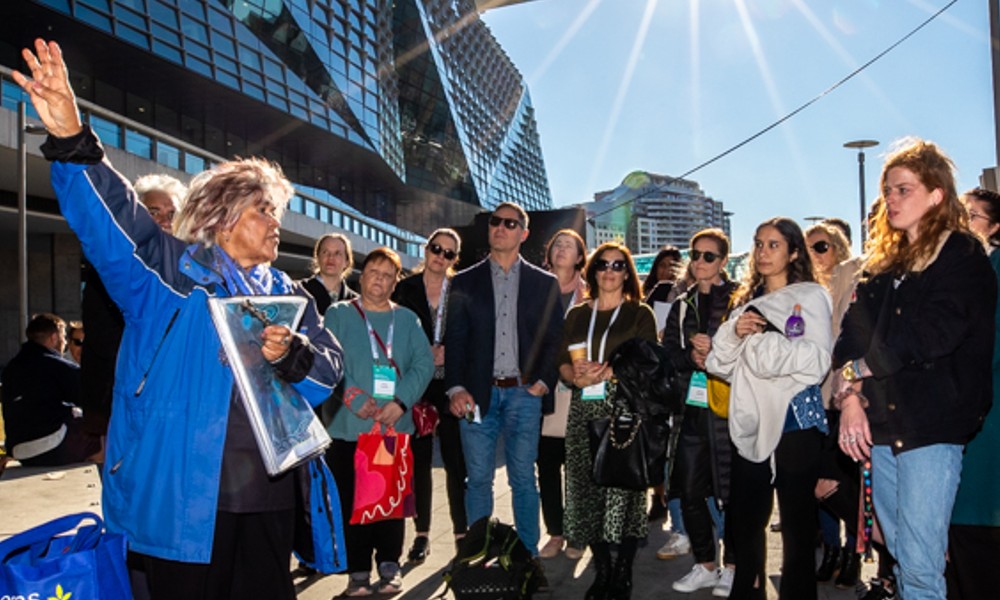 Dunghutti-Jerrinjha woman, Aunty Margaret Campbell from Dreamtime Southern X, gives the cultural tour through Dhumbalong (Darling Harbour) for Conference Attendees. Photo: Joseph Mayers